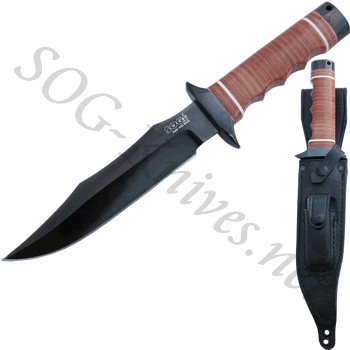 click on image to enlarge
SOG

SB1T-L

Technical Specs:
Blade Length: 7.5 inches
Overall Length: 12.875 inches
Weight: 17.4 oz
Blade Material: AUS 8
Handle Material: Expoxied leather washers
UPC Code:

729857990677

Valid SOG part number: SB1T-L



SOG Super Bowie Knife SB1T

Description:



With a handle made of leather washers and a blade coated in black TiNi, the SOG Super Bowie knife was introduced at the same time as SOG's 20th anniversary. Take a close look at this blade and you'll see grind lines so fine they almost run together. This SOG model SB1T comes razor sharp with a black leather sheath and a sharpening stone. If you're looking for a serious Bowie knife then you've just found it.