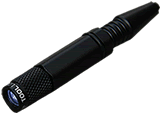 click on image to enlarge
Tool Logic

K6

Technical Specs:
Intense LED light
Waterproof in shallow immersion
Glass breaker
Attaches to keychain
Interchangeable with SL series survival tools
UPC Code:

611102000845

Valid SOG part number: K6



Tool Logic K6 Rescue LED Flashlight

Description:



The Tool Logic K6 Rescue LED Flashlight is small enough for your keychain but big enough to cast an intense LED beam and break through your car window. The LED flashlight is waterproof for shallow immersion and fits snugly into an enclosure that attaches to your keychain. On the other end of the LED flashlight is a glass breaker that can help you escape in case of an emergency.