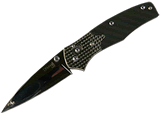 click on image to enlarge
SOG

CT-01

Technical Specs:
Blade Length: 3 inches
Overall Length: 6.75 inches
Weight: 3.6 oz
Blade Material: San Mai
Handle Material: Carbon Fiber
UPC Code:

729857992145

Valid SOG part number: CT-01



SOG Facet Knife CT-01 Carbon Fiber

Description:



The SOG Facet model CT-01 has a san mai blade that is polished to a mirror finished. In fact the blade is polished so well that our camera had trouble picking up the mirror finish when we were taking pictures of this knife. The handle has carbon fiber overlays and machined nickel silver bolsters. The nickel silver bolsters give off a mosaic-like light pattern when the knife is held in the light. Ambidextrous thumb studs open the blade where it is locked in place with an arc lock. A bayonet style pocket clip is mounted on the end of the handle for a nice deep carry.