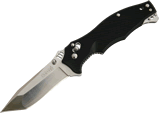 click on image to enlarge
SOG

VL-03

Technical Specs:
Blade Length: 3.5 inches
Overall Length: 8.375 inches
Weight: 5.0 oz
Blade Material: VG-10 Core laminated with 420J2
Handle: Zytel
UPC Code:

729857991254

Valid SOG part number: VL-03



SOG Vulcan Tanto Knife VL-03

Description:



Behold, yet another great knife from the fellows at SOG. This SOG Vulcan model VL-03 has a tanto blade. The core is made of VG-10 while 420J2 has been laminated onto the cutting edge. if you enlarge the picture you can actually see a small seam where the lamination took place. The idea is to keep the high quality material on the cutting edge and use the less expensive material as the core of the blade. SOG's Arc Lock system is integrated into this knife which makes it very easy to open and close. The handle is made from textured Zytel, and a reversible pocket clip is included for easy transport.