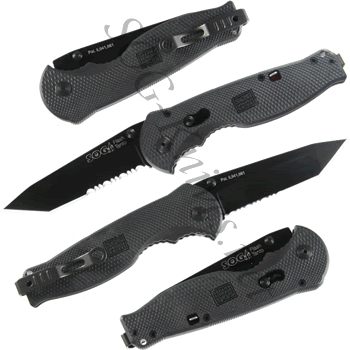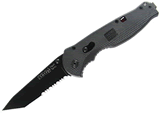 click on image to enlarge
SOG

TFSAT98-CP

Technical Specs:
Blade Length: 3.5 inches
Overall Length: 8 inches
Blade Material: AUS 8
Handle Material: Black GRN (Glass Reinforced Nylon)
Weight: 3.1 oz
UPC Code:

729857995412

Valid SOG part numbers: TFSAT98-CP,TFSAT-98



SOG Flash II Tanto TiNi Knife TFSAT98-CP

Description:



The glass reinforced nylon handle of the SOG Flash II model TFSAT-98 knife has cross-hatch etchings that help you keep a firm grip. The AUS 8 stainless steel tanto blade is partially serrated and comes with a black TiNi finish. As with all knives in the SOG Flash II series, the TFSAT-98 has SOG Assisted Technology opening capabilities complete with a lock on the handle to ensure that the blade remains closed when not in use. A bayonet style clip is included for easy carrying.