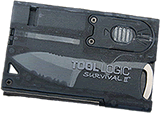 click on image to enlarge
Tool Logic

SVC2

Technical Specs:
Serrated knife blade
Magnesium fire starter
Emergency whistle
Red LED flashlight
Tweezers and toothpick
UPC Code:

611102000777

Valid SOG part number: SVC2



Tool Logic Survival II SVC2

Description:



Be prepared without burdening yourself with a lot of loot. The Tool Logic Survival II business card kit is barely larger than a credit card. However, this survival kit can alert help during an emergency, shine your way through the darkness, untangle yourself when you are in a bind, start fires, and remove splinters. This extreme functionality is only possible because of the amount of thought that went into designing this survival kit. The whistle alerts help while conserving your energy, the red LED light shows you the way without reducing your natural night vision, the serrated knife blade cuts through thick rope, the magnesium fire starter provides intense sparks for starting fires, the tweezers remove splinters, and the toothpick removes fragments of your last meal from your teeth!