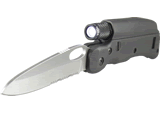 click on image to enlarge
Tool Logic

SL1

Technical Specs:
Blade length: 3 inches
Blade material: stainless steel
Loud emergency whistle
Waterproof LED light w/ hand free magnetic base
Weight: 2.9 oz
UPC Code:

611102000081

Valid SOG part number: SL1



Tool Logic SL1 Light Tool

Description:



The Tool Logic SL1 Light Tool has a 3 inch partially serrated blade that is locked in place with a liner lock. The handle houses a high intensity LED mini light and has a built-in emgency whistle at the end. The LED flashlight is removable and allows hands free operation, thanks to the magnetic base. Simply stick the flashlight to anything magnetic, set the position, and let it hold the light for you. When you are done slip the light back into the knife housing until the next use.