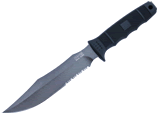 click on image to enlarge
SOG

S37-K

Technical Specs:
Blade Length: 7 inches
Overall Length: 12.3 inches
Weight: 10.3 oz
Blade Material: AUS 8
Handel Material: Zytel
UPC Code:

729857991544

Valid SOG part number: S37-K



SOG Seal Team Knife w/ Kydex Sheath S37

Description:



Once known as the SEAL Knife 2000, the SOG SEAL Team knife has endured a series of tests to prove its worthiness. These tests included the amount of force required to break the tip and the blade, sharpness and edge retention, the force required to break the handle, submersion in salt water to determine corrosion resistance, gasoline exposure and heat resistance, chopping power, hammering, prying and penetration, and a cutting rope of six varying types. This SOG S37 model comes with a long lasting Kydex sheath.