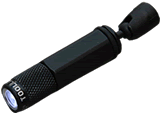 click on image to enlarge
Tool Logic

KSLP1

Technical Specs:
Bright LED Flashlight
Waterproof for shallow immersion
Magnetic end allows for hand-free operation
Attaches to your keychain
Magnet doubles as a pick-up for small metal objects
UPC Code:

611102000647

Valid SOG part number: KSLP1



Tool Logic Hands-Free Magnetic LED Flashlight KSLP1

Description:



The Tool Logic Hands-Free Magnetic LED Flashlight model KSLP1 is perfect for when you find yourself needing light in confined spaces. The magnet on the end of the light allows it to attach to ferrous metals. Work wherever you need to work without worrying about holding the light. Rotate the light in its pivot and point it in any direction. The magnet also doubles as a magnetic pick-up for picking up small metal objects. The Tool Logic KSLP1 attaches easily to your keychain and does not take up much space.