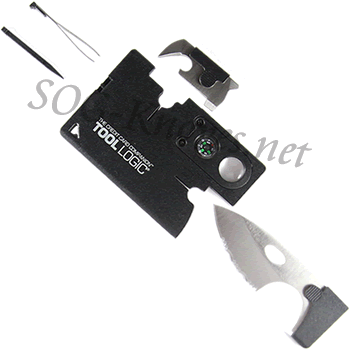 click on image to enlarge
Tool Logic

CC1SB

Technical Specs:
Overall length: 3.375 inches
Overall width: 2.125 inches
Blade length: 2 inches
Housing material: ABS plastic
Weight: 1.4 oz
UPC Code:

611102000012

Valid SOG part number: CC1SB



Tool Logic Credit Card Companion CC1SB

Description:



The Tool Logic Credit Card Companion, CC1SB, is 9 handy tools that fit into a case about the size of a credit card. The folks at Tool Logic have credit card tool design down to an art, and this is no exception. The 1.4 ounce Credit Card Companion measures 3.375 inches by 2.125 inches. The ABS plastic case houses a durable 2 inch partially serrated stainless steel blade, 8x power magnifying lens, compass, toothpick, tweezers, can/bottle opener, awl, ruler, and flat screwdriver. The Credit Card Companion has all of these great features at your fingertips, yet it is small enough to fit in your wallet!