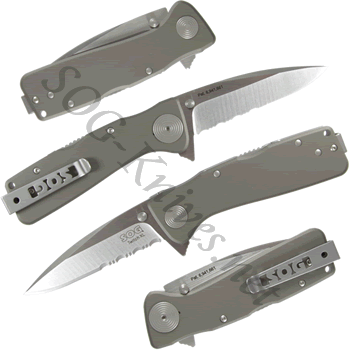 click on image to enlarge
SOG

TWI-920

Technical Specs:
Blade Length: 3.25 inches
Overall Length: 7.5 inches
Weight: 4.2 oz
Blade Material: AUS 8
Handle Material: Hard Anodized Aluminum
UPC Code:

729857994941

Valid SOG part numbers: TWI-920,TWI920-CP



SOG Twitch XL Serrated Knife TWI-920

Description:



The SOG Twitch XL TWI-920 is just a little more knife to love. It has a 3.25 inch AUS 8 blade that is partially serrated. The handle is slim in design and made of hard anodized aluminum. Opening the blade can be initiated two ways – with the dual thumb studs or the kick plate that extends from the blade. SOG Assisted Technology takes over from here and smoothly, quickly opens the blade for use. The blade is locked into place with a traditional lockback. There is a safety switch directly behind this that serves as the lock to prevent the knife from opening when not in use. It can be used as a secondary lock when the knife is open. So go ahead and scratch that knife collecting itch and get yourself a SOG Twitch XL.