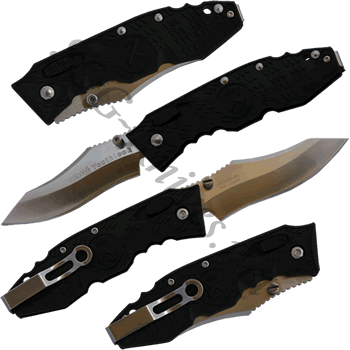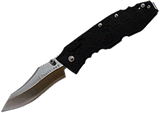 click on image to enlarge
SOG

TK-01

Technical Specs:
Blade Length: 3 inches
Overall Length: 7.3125 inches
Weight: 3.3 oz
Blade Material: VG-10
Handle Material: Zytel
UPC Code:

729857993449

Valid SOG part number: TK-01
Made in Japan.



SOG Toothlock Knife TK-01

Description:



The SOG Toothlock knife model TK-01 has a unique feature you will not find in other knives. The locking mechanism integrated into the handle nudges the blade ajar when the user slides it backward. This nudging action gets the blade started out of the handle, and with the flick of the wrist, the user can pop the blade out in a hurry. This combined motion makes for a very fast opening knife. The shape of the blade is fabulous and has VG-10 laminated onto its surface for a razor sharp edge and excellent retention. The handle is made of sturdy Zytel with textured grooves and grips. A bayonet style clips is mounted on the end of the knife for a nice, deep carry.