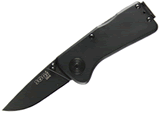 click on image to enlarge
SOG

TBBA-99

Technical Specs:
Blade Length: 2.25 inches
Overall Length: 5.37 inches
Weight: 2.1 oz
Blade Material: AUS 8
Handle Material: Hard Anodized Aluminum
UPC Code:

729857995344

Valid SOG part number: TBBA-99



SOG Blink Black TiNi Knife TBBA-99

Description:



The SOG Blink knfie model TBBA-99 is a powerful knife disguised in a small package. The black TiNi blade is constructed of AUS 8 steel, so do not let the 2.25 inch length of the blade deceive you. This blade cuts as well as its larger rivals. The handle of the Blink TBBA-99 is anodized aluminum and has a low profile pocket clip. It has SOG Assisted Technology that allows the blade to quickly, safely open, and it locks in place with a classic lockback design. The SOG Blink got its name because of its fast opening. If you blink when you open the knife, you will miss the opening action altogether.