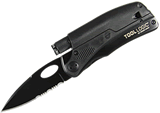 click on image to enlarge
Tool Logic

SLPB2

Technical Specs:
Blade length: 3 inches
Overal length: 6.75 inches
Blade material: stainless steel w/ black oxide coating
Extra components: removable flashlight/fire starter
Weight: 4.2 oz
UPC Code:

611102000463

Valid SOG part number: SLPB2



Tool Logic SL Pro 2 Black Knife SLPB2

Description:



The Tool Logic SL Pro 2 model SLPB2 has a 3 inch partially serrated blade constructed of sturdy stainless steel with a black oxide coating. A loud whistle is built into the handle for emergency situations. Above the knife, housing is attached for the removable flashlight. This waterproof white LED flashlight is constructed of durable anodized aluminum. On the end of the flashlight is a magnesium alloy fire strike that produces sparks that are over 2500 degrees F! The SL Pro 2 is a handy tool to have if ever one is faced with a survival situation.