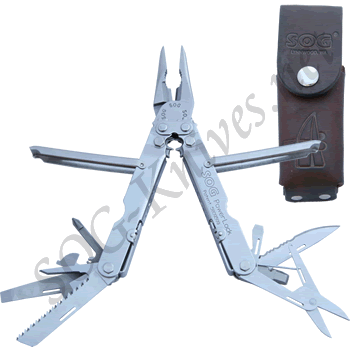 click on image to enlarge
SOG

S61-L

Technical Specs:
Closed Length: 4.6 inches
Open Length: 7 inches
Weight: 9.6 oz
Material: Stainless Steel
Sheath Included
UPC Code:

729857000611

Valid SOG part number: S61-L



SOG PowerLock EOD Multi Tool S61

Description:



The SOG PowerLock EOD model S61 shown here is the same as the SOG S60 except that it has a blasting cap crimper for military purposes. The SOG PowerLock has a compound leverage system that makes the pliers so strong that you can cut pocket change effortlessly. Yes that's right. You can take a quarter from your pocket and literally cut it in half if you wanted to! Now we don't recommend you cut money with your pliers, but they really are that powerful. These tools are included on the SOG PowerLock S61: coarse saw, partially serrated blade, file, flathead screwdriver, phillips screwdriver, 1/4 inch socket, awl, can opener, small flathead screwdriver, bottle opener, medium screwdriver, scissors, wire crimper, wire cutters, blasting cap crimpers. Sheath included will be either leather or nylon. Sorry but we are unable to fulfill requests for sheath type.