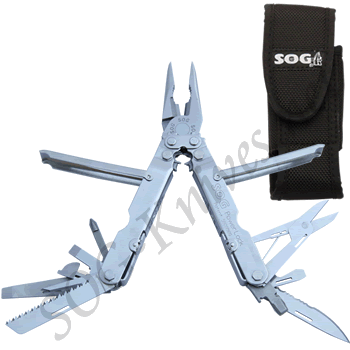 click on image to enlarge
SOG

S60-N

Technical Specs:
Closed Length: 4.6 inches
Open Length: 7 inches
Weight: 9.6 oz
Material: Stainless Steel
Sheath Included
UPC Code:

729857000604

Valid SOG part numbers: S60-N,S60N-CP



SOG PowerLock Multi Tool S60 with Nylon Sheath

Description:



The SOG PowerLock model S60 has a compound leverage system that multiplies your squeezing force. Thanks to this compound leverage system these pliers are able to effortlessly cut through things that other pliers cannot. The following components are included on this pair of SOG PowerLock Pliers: coarse saw, partially serrated blade, file, flathead screwdriver, phillips screwdriver, 1/4 inch socket, awl, can opener, small flathead screwdriver, bottle opener, medium screwdriver, scissors, wire crimper, wire cutters. Sheath included will be nylon.