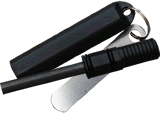 click on image to enlarge
Tool Logic

K3

Technical Specs:
Magnesium alloy rod drops a shower of sparks
Metal striker included
Storage enclosure included
Compact size, fits on a keychain
Works even when wet
UPC Code:

611102000852

Valid SOG part number: K3



Tool Logic K3 Magnesium Alloy Fire Starter

Description:



The Tool Logic K3 Fire Starter uses a magnesium alloy to put off a shower of sparks. Simply scrape the metal striker against the magnesium alloy rod and allow the sparks to land on whatever it is that you are trying to ignite. The K3 Fire Starter is so small and compact that it easily fits on your keychain. What is better is that it works even in wet conditions.