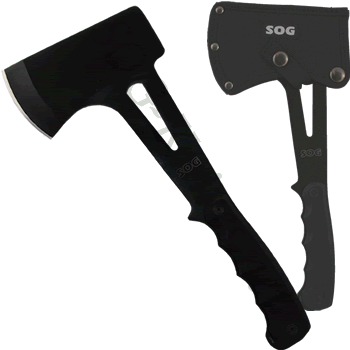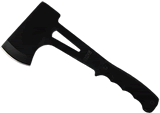 click on image to enlarge
SOG

F09

Technical Specs:
Blade Length: 2.4 inches
Overall Length: 11.1 inches
Weight: 18.6 oz
Blade Material: 420 Stainless Steel
Handle Material: G10
UPC Code:

729857993302

Valid SOG part numbers: F09,F09N-CP



SOG Hand Axe (SHAX) F09

Description:



The SOG Hand Axe model F09 wants to be known as the SHAX. This axe weighs barely over a pound yet has nearly a foot of length and a 2.4 inch cutting surface. The strenth and light weight of this axe is made possible because it is cut from a solid piece of stainless steel with a HRC rating of 51-53. The handle has nice G10 overlays for comfort and grip even in wet conditions. Black oxide is coated on the metal surfaces to give it a dark color and to protect against corrosion. A sheath that wraps around the axe head is included.