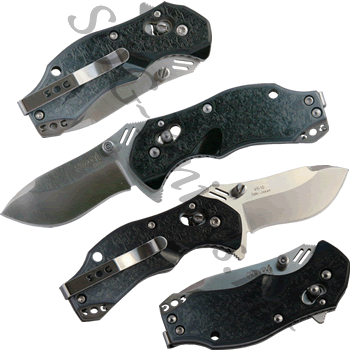 click on image to enlarge
SOG

BL-03

Technical Specs:
Blade Length: 2.25 inches
Overall Length: 5.5 inches
Weight: 3.2 oz
Blade Material: VG-10
Handle Material: Textured Aluminum
UPC Code:

729857992978

Valid SOG part number: BL-03
Made in Japan.



SOG Bluto Knife BL-03

Description:



The SOG Bluto knife model BL-03 projects a masculine stance. And we are here to tell you that it is not bluffing because the materials used in the construction of this knife are second to none. The blade is high quality VG-10 steel. The handle has thick stainless steel liners with textured aluminum overlays. The overlays are unique because the color gradient fades from grey to black as you get closer to the blade. The knife is opened using the ambidextrous thumbstuds and locked in place with the arc-lock. Pull the arc-lock and it releases the blade. A reversible bayonet style pocket clip sits on the oppsite end of the handle from the blade. The overall length of the SOG Bluto when opened is 5.5 inches, and its weight is 3.2 ounces.