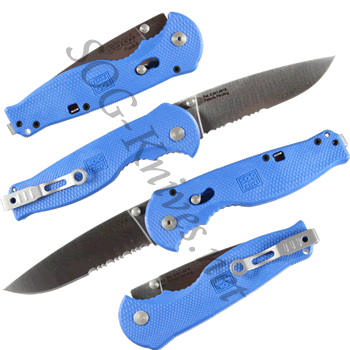 click on image to enlarge
SOG

BFSA-98

Technical Specs:
Blade Length: 3.5 inches
Overall Length: 8 inches
Weight: 3.1 oz
Blade Material: AUS 8
Handle Material: Blue GRN (Glass Reinforced Nylon)
UPC Code:

729857993821

Valid SOG part number: BFSA-98



SOG Flash II Knife Blue Handle BFSA-98

Description:



Quick access. Safety locks. These are just a couple of the features that make the SOG Flash II such a popular knife design. This blue glass reinforced nylon handle of the BFSA-98 model combines function with style. Made of AUS 8 steel, the blade is partially serrated and brought to a satin finish. The knife has SOG Assisted Technology opening, a safety lock, and a reversible carrying clip.