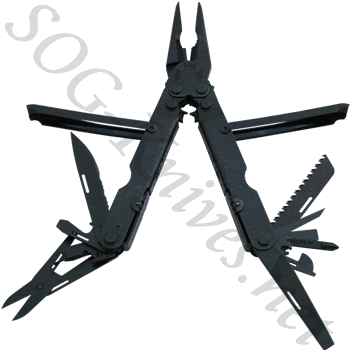 click on image to enlarge
SOG

B61

Technical Specs:
Closed Length: 4.6 inches
Open Length: 7 inches
Weight: 9.6 oz
Material: Stainless Steel
Sheath Included
UPC Code:

729857061612

Valid SOG part numbers: B61,B61N-CP



SOG PowerLock EOD Black B61

Description:



The SOG PowerLock EOD has the same great features as the other PowerLock models with the addition of the blasting cap crimper for tactical use. This model B61 is coated with a black oxide finish over its stainless steel core. SOG's Compound Leverage system that multiplies your squeezing force has been integrated into this tool. The components integrated with the SOG B61 are double tooth saw, partially serrated knife, file, small-medium-large screwdrivers, phillips screwdriver, 1/4 inche socket, awl, can opener, bottle opener, scissors, wire crimpers, blasting cap crimper, pliers. Sheath included will be either leather or nylon. Sorry but we are unable to fulfill requests for sheath type.