2 different SOG Fusion Knives to choose from



---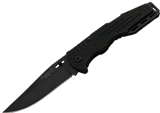 SOG Fusion Salute Knife Black FF-11
The SOG Fusion Salute model FF-11 has a black coated 8Cr13MoV blade with a hardness rating of 52-54. This tactical folding knife is razor sharp and has a patented adjustable thumbstud that you can slide to fit your grip perfectly. The handle has G-10 overlays for comfort and grip even in wet conditions. The knife is held open and released by a large lockback on the spine. The pocket clip is reversible so you can put it on whichever end you wish to carry. When you operate this knife you will be surprised with its smooth operation.
Blade Length: 3.625 inches
Overall Length: 8.25 inches
Weight: 4.2 oz
Blade Material: 8Cr13MoV
Handle Material: G-10
In Stock: more than 10

retail $51.75
our price $28.20

SOG Fusion Salute Knife FF-10
The SOG Fusion Salute model FF-10 has unique features that give it character. The blade is a bowie style folder that is held in place with a slightly large lockback. The lockback is nice and wide making it comfortable when releasing the blade. The handle has textured G-10 that provides grip even in wet weather. Strength is added by the steel liners that run the entire length of the handle. Something else you may find interesting is the thumbstud can be moved back and forth along a track in order to adjust to your perfect comfort. To finish it off, SOG has added a nice bayonet style pocket clip that allows a low carry.
Blade Length: 3.625 inches
Overall Length: 8.25 inches
Weight: 4.2 oz
Blade Material: 8Cr13MoV
Handle Material: G-10
In Stock: 1

retail $46.75
our price $29.54

---