3 different SOG Vulcan Knives to choose from



---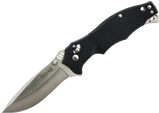 SOG Mini Vulcan Knife VL-02
Getting its name from the machine gun that is mounted on the F-15, F-16, and F-18 fighter jets, the SOG Mini Vulcan VL-02 is certainly considered heavy armament. The .125 inch thick blade is made of high quality VG-10 metal and the handle is Zytel with stainless steel liners. Mounted on the back of the knife is a kick that can be pressed to aid in opening the knife. Another way to open the knife is to use the ambidextrous thumbstuds. By releasing the arc-lock near the hinge the blade folds back into the handle.
Blade Length: 3 inches
Overall Length: 7.35 inches
Weight: 3.4 oz
Blade Material: VG-10
Handle Material: Zytel
In Stock: 1

retail $161.50
our price $97.72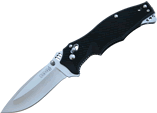 SOG Vulcan Knife VL-01
The SOG Vulcan, model VL-01, has a .16 inch thick VG-10 stainless steel blade that is locked in place by SOG's Arc-Lock system. The handle is made of textured Zytel with finger grooves to give the user a contoured fit. The SOG Vulcan comes razor sharp right out of the box, and when you hold this knife for the first time you'll know that it's gonna be around for years to come. This knife is just plain tough. That's all there is to this story.
Blade Length: 3.5 inches
Overall Length: 8.38 inches
Weight: 5.0 oz
Blade Material: VG-10
Handle Material: Zytel
In Stock: 5

retail $188.50
our price $112.87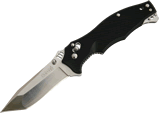 SOG Vulcan Tanto Knife VL-03
Behold, yet another great knife from the fellows at SOG. This SOG Vulcan model VL-03 has a tanto blade. The core is made of VG-10 while 420J2 has been laminated onto the cutting edge. if you enlarge the picture you can actually see a small seam where the lamination took place. The idea is to keep the high quality material on the cutting edge and use the less expensive material as the core of the blade. SOG's Arc Lock system is integrated into this knife which makes it very easy to open and close. The handle is made from textured Zytel, and a reversible pocket clip is included for easy transport.
Blade Length: 3.5 inches
Overall Length: 8.375 inches
Weight: 5.0 oz
Blade Material: VG-10 Core laminated with 420J2
Handle: Zytel
In Stock: 2

retail $210.00
our price $124.71

---