2 different SOG Visionary Knives to choose from



---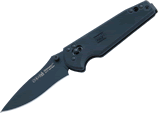 SOG Visionary I Knife VS-01
Sporting a good-looking black powder coat finish, the SOG Visionary I knife is just right. The straight edge blade of this SOG model VS-01 opens smooth and locks in place with the SOG Arc-Lock Technology. The textured Zytel handle provides an extra nice grip with its index finger groove. Everything is just right with the SOG Visionary I.
Blade Length: 3 inches
Overall Length: 7 inches
Weight: 3.0 oz
Blade Material: VG-10
Handle Material: Zytel w/ stainless liners
In Stock: 2

retail $161.50
our price $84.43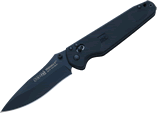 SOG Visionary II Knife VS-02
The SOG Visionary II folding knife was built trying to accomplish two goals at once, tactical and stylish. Having both of these virtues coincide with each other at once makes for an interesting knife. From the tactical point of view the Visionary II features a non-reflective black coating and a lightweight glass-reinforced Zytel handle. From the stylish point of view you'll enjoy the cool Arc-Lock locking mechanism.
Blade Length: 3.75 inches
Overall Length: 8.37 inches
Weight: 4.3 oz
Blade Material: VG-10
Handle Material: Glass-reinforced Zytel

retail $183.00
our price $109.82

---