2 different SOG Tomcat Knives to choose from



---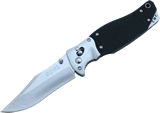 SOG Tomcat 3.0 Knife S95
Going strong since winning overall knife of the year back in 1988, the SOG Tomcat 3.0 model S95 still has the same finesse that it did decades ago. The big 3.75 inch blade is harnessed by SOG's Arc-Lock that engages and disengages near the hinge of the knife. The clip point blade is made of high quality VG-10 steel that looks good and holds an edge well. The comfortable yet grippy kraton handle feels great to the touch.
Blade Length: 3.75 inches
Overall Length: 8.65 inches
Weight: 6.5 oz
Blade Material: VG-10
Handle Material: Kraton

retail $280.00
our price $161.06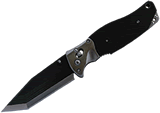 SOG Tomcat 3.0 Knife S95SL
Approximately one-half of the blade on this SOG Tomcat 3.0 S95SL is made of carbon fiber. The cutting surface is made of the high quality VG-10 metal. Carbon fiber appears again on the handle of this exotic knife. The SOG arc-lock system holds and releases the blade. Ambidextrous thumbstuds facilitate a one-handed opening system. A nylon sheath is included.
Blade Length: 3.75 inches
Overall Length: 8.65 inches
Weight: 6.5 oz
Blade Material: VG-10
Handle Material: Carbon Fiber
In Stock: more than 10

retail $484.50
our price $248.31

---