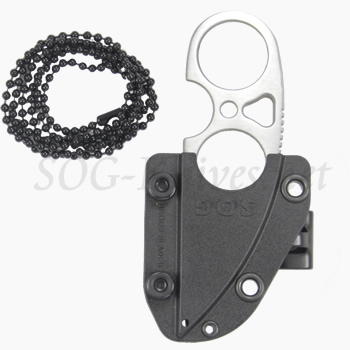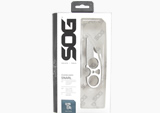 click on image to enlarge
SOG

JB01K-CP

Technical Specs:
Blade length: 2.3 inches
Overall length: 4.3 inches
Blade material: 9CR18MOV stainless steel
Hardness: 58-60
Weight: 1.9 oz
UPC Code:

729857996754

Valid SOG part number: JB01K-CP



SOG Snarl Neck Knife JB01K-CP

Description:



The SOG Snarl JB01K-CP Neck Knife is a dual carry design. It can be carried on your belt like a normal knife using the kydex sheath, or you can remove the clip from the sheath and carry the knife in its sheath around your neck using the included neck chain. You will love the kydex sheath because it is fitted to perfectly fit this knife. The knife literally snaps in place in the sheath for a secure hold even when mounted upside down. The SOG Snarl has two big finger holes and one finger groove that allows you to maintain excellent control using three fingers. The blade is made of 9CR18MOV stainless steel and shaped using the traditional sheepsfoot design. Go ahead, try the SOG Snarl.