2 different SOG Pentagon Knives to choose from



---
SOG Mini Pentagon Knife M14K-CP
As little brother to the SOG Pentagon, the SOG Mini Pentagon model M14 fits nicely concealed in your boot or vest. One edge of the AUS 8 blade is serrated while the other is finde edged. Thumb notches on both sides of the blade allow you to apply good downward pressure while gripping the textured Kraton handle. The Mini Pentagon comes with a hard plastic sheath for quick deployment and a chain.
Blade Length: 3.5 inches
Overall Length: 7.75 inches
Weight: 3.3 oz
Blade Material: AUS 8
Handle Material: Kraton
In Stock: 1

retail $88.00
our price $54.68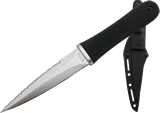 SOG Pentagon Knife S14 with Kydex Sheath
Designed for law enforcement and military personnel, the SOG Pentagon model S14 is also a favorite among knife enthusiasts. With a serrated edge on one side and a fine edge on the other, the user can quickly switch tasks by simply turning the knife to the knife to the other side. The Kraton handle with its texture offers comfort and grip in one package. This SOG Pentagon comes with a kydex sheath.
Blade Length: 5 inches
Overall Length: 9.75 inches
Weight: 5.6 oz
Blade Material: AUS 6
Handle Material: Kraton
In Stock: 1

retail $103.50
our price $59.99

---