2 different SOG Multitools to choose from



---
SOG PowerAssist EOD Multitool S67
This Sog PowerAssist EOD S67 is known because it has two assisted opening blades in one handle. The plier jaws are geared such that your sqeezing force is doubled while you effortlessly cut your way through heavy things like thick wire. With the patent pending piano lock system you will love how each tool locks and releases individually. The SOG PowerAssist EOD has the following components: straight and serrated knife blades, 3-sided file, large screwdriver, can opener with small screwdriver on the tip, wire crimper, wire cutter, blasting cap crimper, compound leverage system, comfort grips, C-4 Punch, and a sheath. Sheath included will be either leather or nylon. Sorry but we are unable to fulfill requests for sheath type.
Closed Length: 4.675 inches
Open Length: 7.125 inches
Weight: 9.3 oz
Material: Stainless Steel
Sheath Included
In Stock: 2

retail $119.25
our price $70.05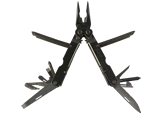 SOG PowerLock EOD Multitool S69
The SOG PowerLock S69 is silver colored and features a C4 punch. This multitool has a butterfly opening and uses the compression technology that gives you enough squeezing force to cut pocket change. This SOG PowerLock comes full of tools including partially serrated knife blade, can opener, three sizes of flathead screwdrivers, phillips screwdriver, awl, C4 punch, v-cutter, and a file. Note, the sheath included may be either leather or nylon, and we are not able to take requests specifying sheath type.
Closed Length: 4.6 inches
Open Length: 7 inches
Weight: 9.6 oz
Material: Stainless Steel
Sheath Included
In Stock: more than 10

retail $114.00
our price $58.85

---