2 different SOG Knife Sharpeners to choose from



---
SOG Countertop Knife Sharpener SH-02
Is it possible to go from dull to shaving sharp with 5 swipes? It is now! The SOG Countertop Sharpener SH-02 attaches to non-porous surfaces with a bottom-mounted vacuum base. Simply attach the sharpener and drag your knife slowly through the sharpener for a quick, sharp edge. Here are detailed instructions of how to use the sharpener. 1.) Find an ideal non-porous survate like glass, marble, granite, stanless steel, or fiberglass. 2.) Place the sharpener on the surface and depress the lever that actuate the vacuum base. 3.) Drag your knife blade slowly through the groove to sharpen the blade. Do not put the blade forward through the sharpener. 4.) When finished disengage the lever to release the vacuum base.
Sharpen by dragging blade through
Perfect edge every time
Less effort than ordinary sharpeners
Vacuum base attaches to non-porous surfaces
Quick-release lever
In Stock: 3

retail $25.00
our price $14.90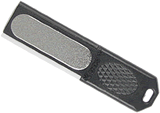 SOG Mini Sharpener wit Fire Starter SH03
The SOG Firestarter/Sharpener SH03 is an ingenious design. It has a flat diamond sharpening surface on one side for use with plain edges. One edge of the device has a ceramic sharpener for serrated blades while the other sports a ferrocerium rod for fire starting. All of the features are built into a unit small enough to go on a keychain or to be worn on a lanyard. Glass reinforced nylon.
Overall length = 3.25 inches
overall width = .85 inches
Components: fire starter, ceramic rod, diamond sharpening pad
Weight: 1oz
In Stock: more than 10

retail $20.00
our price $12.73

---