2 different SOG Huntspoint Knives to choose from



---
SOG Huntspoint Boning Knife HT021L-CP
This SOG Huntspoint Boning knife HT021L-CP is just the right size. At 8.2 inches it is long enough to be legit as a hunting knife but short enough to make itself useful as a boning knife. With its length and grip patterns the Huntspoint Boning knife gives you the dexterity needed to make intricate cuts like boning. With its full tang AUS 8 blade the Huntspoint knife will have great edge retention and prying abilities. A high quality leather sheath is included.
Blade length: 3.6 inches
Overall length: 8.2 inches
Blade material: AUS 8
Handle material: glass reinforced nylon (GRN)
Weight: 3.7 oz
In Stock: more than 10

retail $80.00
our price $49.86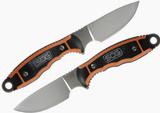 SOG Huntspoint Skinning Knife HT011L-CP
The SOG Huntspoint HT011L-CP has an AUS 8 blade and a glass reinforced nylon handle. It comes with a sturdy leather sheath with a belt loop on it so you can carry it on your side. The blade is full tang all the way to the end of the knife. This adds plenty of strength and gives the knife superior prying ability. The 3.6 inch blade has a finger groove at the base which allows you to choke up on the knife and make precise, intricate cuts. At the end of the knife a lanyard hole is there so you can attach your paracord.
Blade length: 3.6 inches
Overall length: 8.2 inches
Blade material: AUS 8
Handle material: glass reinforced nylon (GRN)
Weight: 3.7 oz
In Stock: 2

retail $80.00
our price $49.86

---