2 different SOG Flash Knives to choose from



---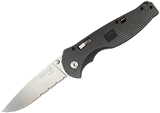 SOG Flash II Serrated Knife FSA-98
The SOG Flash II, model FSA-98, has a partially serrated AUS 8 stainless steel blade. The blade is opened using a thumb stud, and once initiated, the SOG Assisted Technology takes over and opens the blade in a flash. Once open the blade is held locked tight by the piston lock system, and then it is easily released once the operator moves the slider in the handle. A safety is integrated into the Zytel handle to prevent accidental opening.
Blade Length: 3.5 inches
Overall Length: 8 inches
Weight: 3.1 oz
Blade Material: AUS 8
Handle Material: Zytel
In Stock: 4

retail $75.00
our price $40.57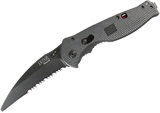 SOG Flash Rescue Black TINI Knife TFSA-6
In keeping with SOG unparalleled design, the SOG Flash Rescue Black TINI knife model TFSA-6 is a blade like no other. From the checkered scales of its glass-filled nylon handle to the rounded point, serrated sheep foot blade the Flash Rescue is quite possibly the sleekest resuce folder in existence. Combine all of the aforementioned features with SOGs piston locking, assisted opening system (S.A.T), a black TiNi coated blade, and what you have is a rock-solid knife that will withstand years of abuse. The Flash Rescue features SOGs super low-profile belt clip (reversible) and an additional safety lock for security.
Blade Length: 3.5 inches
Overall Length: 8 inches
Weight: 3.1 oz
Blade Material: AUS 8
Handle Material: Black GRN (Glass Reinforced Nylon)
In Stock: more than 10

retail $79.99
our price $54.11

---