2 different SOG Creed Knives to choose from



---
SOG Creed Knife Black TiNi CD-02
The SOG Creed model CD-02 has an AUS 8 blade that is coated in black TiNi. The belly of the blade is enhanced on the SOG Creed to give you extra chopping power with you are hunting or camping. The handle comes straight from the popular SOG Bowie knife line. The handle is made of textured kraton and has appealing white washers. A leather sheath is included with the SOG Creed knife.
Blade Length: 7.5 inches
Overall Length: 12.125 inches
Weight: 12.8 oz
Blade Material: AUS 8
Handle Material: Kraton

retail $284.75
our price $150.02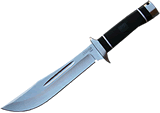 SOG Creed Knife CD-01
The SOG Creed CD-01 knife has a long 7.5 inch AUS 8 stainless steel blade with a big belly. This big belly is perfect for chopping. The blade is married to the popular Kraton handle that is found on the SOG bowie knives. Keep the SOG Creed as a collectible or put it right to work hunting and camping. A leather sheath is included for easy carrying.
Blade Length: 7.5 inches
Overall Length: 12.125 inches
Weight: 12.8 oz
Blade Material: AUS 8
Handle Material: Kraton
In Stock: 7

retail $258.75
our price $129.82

---