3 different SOG Camping and Survival Gear to choose from



---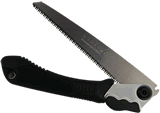 SOG Folding Camp Saw F10
The SOG Folding Camp Saw model F10 is designed so that the blade is nice and long, yet still easy to carry. The hard-tempered blade made of High Carbon is made for cutting through small branches and logs on the pull stroke. Nice deep -extremely sharp teeth ae ready to go to work on green and hard wood items. The soft-grip handle was built to be comfortable on your hand and help resist fatigue. A nylon sheath is included for convenient storage. Just fold the Saw and put it in your pouch and off you go!
Overall Length: 14.75 inches
Blade Length: 8.25 inches
Blade Material: High Carbon steel
Handle Material: Soft grip TPR
Nylon sheah included
In Stock: 5

retail $26.00
our price $12.58

SOG SOGfari Machete 10 inch MC04-N
SOG SOGfari Machete 10 inch MC04-N. This machete has a sharp stainless steel blade with a saw back and tanto edge. Steel is made of 3Cr13 with RC of 44-50. The handle has a digi-grip texture for added grip. This comes with a nylon sheath. Total weight is 13.5 oz. You will be ready for the Safari or any other field of brush with the SOGfari machete.
Blade Length: 10 inches
Overall Length: 16 inches
Weight: 13.5 oz
Blade Material: 3Cr13
Handle Material: Kraton with digi grips
In Stock: 4

retail $30.00
our price $19.03

SOG SOGfari Machete 13" MC-01
The SOG SOGfari model MC-01 has a 13 inch stainless steel blade with 50 teeth on the spine that cut deep. The edge on the blade is very sharp, unlike you will find with other machetes. The handle is made of kraton and is shaped shaped in a way that gives you increased comfort during prolonged use. The overall balance of the machete is such that the maximum cutting power is delivered with each swing of the blade. A stiff nylon sheath is included for easy carrying and to help prevent injury.
Blade Length: 12.9 inches
Overall Length: 18.95 inches
Weight: 13 oz
Blade Material: 3CR13 Stainless
Handle Material: Kraton

retail $27.00
our price $14.82

---