3 different SOG Bowie Knives to choose from



---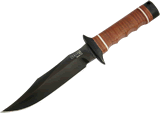 SOG Bowie 2.0 Knife S1T
Weighing in at three quarters of a pound, coated in TiNi, and a faceted tip are just a few signatures that give this SOG Bowie 2.0 its unique qualities. Modeled after the same knife used by the 5th Special Forces in the vietnam war, this SOG S1T is as close to the real deal as it gets. The blade is made of razor sharp AUS 8 stainless steel, and the handle uses epoxied leather washers as its material. A tough leather sheath and a sharpening stone are included with the SOG Bowie 2.0.
Blade Length: 6.4 inches
Overall Length: 11 inches
Weight: 12 oz
Blade Material: AUS 8
Handle Material: Epoxied Leather Washers

retail $248.50
our price $124.79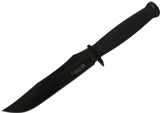 SOG Fixation Bowie Knife FX01N-CP
The SOG Fixation Bowie, model FX-01, has a 7 inch blade coated in non-reflective black oxide. The fixed blade is made of 8Cr13MoV steel with a RC 57-58. The Kraton handle has been checkered all the way around for the best grip. Weighing in at 10.5 oz, this fixed blade bowie is practical by any measure. A nylon sheath is included for easy carrying.
Blade Length: 7 inches
Overall Length: 12.25 inches
Weight: 10.5 oz
Blade Material: 8Cr13MoV Steel
Handle Material: Kraton
In Stock: 6

retail $57.00
our price $35.50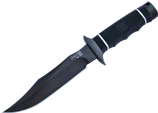 SOG Tech Bowie Black TiNi Knife S10B
The SOG Bowie founded the SOG company. This SOG Tech Bowie model S10B continues to define the SOG company with good materials, great looks, and workhorse practicality. The blade is .240 inches thick and made of black TiNi coated AUS 8 polished stainless steel. The handle is made of Kraton with interspaced white washers that SOG claims has never been done before. A hard Kydex sheath is included that should last a lifetime.
Blade Length: 6.4 inches
Overall Length: 11 inches
Weight: 11.2 oz
Blade Material: AUS 8
Handle Material: Kraton
In Stock: 7

retail $207.00
our price $104.48

---