2 different SOG Aura Knives to choose from



---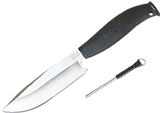 SOG Aura Camping Knife AU-01
Inspired by the traditional Bowie knife, the SOG Aura Camping knife model AU-01 combines all the traditional dependability of the Bowie with the best design technology available today. The fixed blade is constructed of 7Cr13 stainless steel. A finger guard is integrated into the blade to give you precise control. The zytel handle has a rubber covering for added grip and features a removable carbide sharpener that unscrews from the end of the handle. Nylon sheath included.
Blade Length: 6 inches
Overall Length: 10.95 inches
Weight: 8.6 oz
Blade Material: 7Cr13 Stainless Steel
Handle Material: Zytel
In Stock: 4

retail $53.00
our price $29.08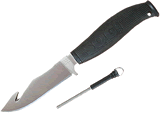 SOG Aura Hunting Knife AU-02
The SOG Aura Hunting knife model AU-02 has a 7Cr13 stainless steel blade that is just over 5 inches in length. The blade has a fine edge and features a gut hook to assist in cleaning your game. The handle is constructed of glass-reinforced polymer that is designed to take whatever you throw at it. Between the durability, ergonomic design, and the carbide sharpener constructed into the handle, this could quite possibly be the perfect hunting knife. A nylon sheath is included for convenient carrying.
Blade Length: 5 inches
Overall Length: 10 inches
Weight: 5.4 oz
Blade Material: 7Cr13 Stainless Steel
Handle Material: Zytel

retail $55.00
our price $25.13

---