3 different SOG Sheaths to choose from



---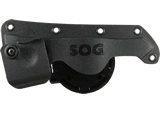 SOG Hard Nylon Sheath for Fasthawk HDN-F06
Made from heavy duty nylon, the SOG Fasthawk Hard Nylon Sheath HDN-F06 will make carrying a breeze. To install the blade in the sheath, simply open the pivoting end of the sheath. Once the blade is in position, close the sheath, which will lock the axe securely into place. You can carry your Fasthawk courtesy of the belt clip located on the back of the Fasthawk Hard Nylon Sheath HDN-F06.
Designed to fit SOG Fasthawk
Weight: 6.5 oz
In Stock: 5

retail $35.00
our price $15.10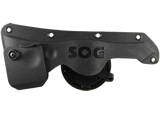 SOG Hard Nylon Sheath for Tomahawk HDN-F01
Carry your Tomahawk easily with the SOG Tomahawk Hard Nylon Sheath HDN-F01. Made of tough nylon, this sheath is a custom fit for the Tomahawk. The blade end of the sheath has a piece that pivots out to allow you to place the axe in the sheath. When returned to position, this piece locks into place, securing the Tomahawk. The back of the HDN-F01 Hard Nylon Sheath has a pivoting clip for conveniently carrying your Tomahawk.
Designed to fit SOG Tomahawk
Weight: 7.4 oz
In Stock: more than 10

retail $40.00
our price $22.14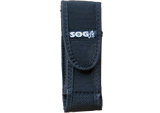 SOG Small Nylon Sheath P44
The SOG Small Nylon Pouch model P44 is ideal for the smaller multitools like the Paratool and the BiPolar and for the folding knives like Trident and Vulcan. It measures 5 inches in length with a pocket depth of 3.5 inches and a width of 1.75 inches. Contents are held secure with a velcro fastener. A belt clip is mounted on the back for easy carrying.
Overall open length: 8.75 inches
Closed length: 5 inches
Width: 2 inches
Pocket depth: 3.5 inches
Pocket width: 1.75 inches
In Stock: more than 10

our price $3.87

---