2 different SOG Flashlights to choose from



---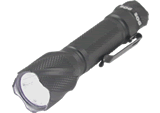 SOG Dark Energy 247A LED Flashlight DE-02
The SOG Dark Energy 247 DE-02 gives off a powerful 247 lumens of light. The body of the light is contoured, highly textured 6061-T6 aluminum that is coated in black anodizing for ultimate durability. A full on full off power button has half tap options for 40 percent power and strobe effect. Run time with two CR123A batteries is 145 minutes on high and 485 minutes on low. The SOG Dark Energy 247 DE-02 has a pocket clip for convenient carrying.
Overall Length: 5.1 inches
Max Output: 247 Lumens
Batteries included: CR123A (2)
Weight: 4.1 oz
Housing Material: 6061-T6 Aluminum
In Stock: more than 10

retail $114.00
our price $72.66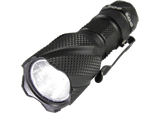 SOG Dark Energy LED Flashlight DE-01
The SOG Dark Energy 214 DE-01 has 214 lumens of bright, crisp light from a single CR123A battery. The switch is a full on full off design that offers 40 percent output and strobe settings courtesy of a half-tap application. The casing is highly textured 6061-T6 Type III anodized aluminum for rugged durability. Run time of the SOG Dark Energy 214 is 80 minutes at full power and 3 hours on 40 percent.
Overall Length: 3.8 inches
Max Output: 214 Lumens
Batteries included: CR123A (1)
Weight: 3 oz
Housing Material: 6061-T6 Aluminum
In Stock: 1

retail $92.00
our price $58.14

---