2 different SOG Fielder Knives to choose from



---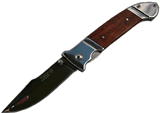 SOG Fielder Knife FF30
The SOG Fielder model FF-30 has a 7Cr13 stainless steel blade that is opened by a thumbstud. The handle has wood overlays which give the knife a good contrast in color against its mirror polished bolsters. A trusty liner lock holds the blade in place. The knife is carried using the pocket clip that is included.
Blade Length: 3.5 inches
Overall Length: 7.8 inches
Weight: 4.4 oz
Blade Material: 7Cr13 Stainless steel
Handle Material: Wood overlays
In Stock: 8

retail $30.00
our price $14.20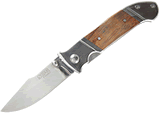 SOG Fielder Mini Knife FF33
Whether used for everyday carrying or reserved for outdoor adventures, the SOG Fielder Mini model FF-33 is a beautifully designed knife you can count on time and time again. The wood inlays contrasting with the high polish of the bolsters is visually impressive. The 7Cr13 stainless steel of the blade is extra-sharp and ready for action. Dual thumbstuds provide ambidextrous opening of the blade. A liner lock ensures that the blade remains open when needed. The SOG Fielder Mini FF-33 includes a pocket clip for convenient accessibility while being carried.
Blade Length: 2.75 inches
Overall Length: 6.5 inches
Weight: 3.36 oz
Blade Material: 7Cr13 Stainless steel
Handle Material: Wood overlays
In Stock: more than 10

retail $25.00
our price $11.41

---