3 different SOG Fielder Knives to choose from



---
SOG Fielder and Rotohook Combo Kit KIT00007
This is a special combination of two great knives paired together in one clam package. SOG has combined the Fielder and the Rotohook KIT00007. The Fielder has the 7Cr17 steel with satin finish on it's 3.5 inch blade. The handle is also stainless with the black G10 scales for better grip. This has the low carry pocket clip and high luster bolsters for a great look on this Fielder. The Rotohook knife comes with a Leather sheath and is perfect for anyone needing a blade and gut hook in one knife. It has the rotating blade so with one push of a button it can convert and have just the right blade for any occasion. This is made with the 8Cr13MoV steel on this 4.5 inch fixed blade. It has a satin polished finsih and overall length of 4.5 inches. The handle is glass reinforced nylon and has the orange color so that you can find it easier, weighing only 6.1 ounces. This combination is the perfect gift for anyone anytime.
Blade Length: 3.5 inches (Fielder)
Overall Length: 7.8 inches
Weight: 4.7 oz
Blade Material: 7Cr17
Handle Material: G10 and Stainless
In Stock: more than 10

our price $48.60
additional 7% OFF !
sale price $44.99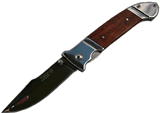 SOG Fielder Knife FF30
The SOG Fielder model FF-30 has a 7Cr13 stainless steel blade that is opened by a thumbstud. The handle has wood overlays which give the knife a good contrast in color against its mirror polished bolsters. A trusty liner lock holds the blade in place. The knife is carried using the pocket clip that is included.
Blade Length: 3.5 inches
Overall Length: 7.8 inches
Weight: 4.4 oz
Blade Material: 7Cr13 Stainless steel
Handle Material: Wood overlays
In Stock: 8

retail $30.00
our price $14.20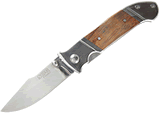 SOG Fielder Mini Knife FF33
Whether used for everyday carrying or reserved for outdoor adventures, the SOG Fielder Mini model FF-33 is a beautifully designed knife you can count on time and time again. The wood inlays contrasting with the high polish of the bolsters is visually impressive. The 7Cr13 stainless steel of the blade is extra-sharp and ready for action. Dual thumbstuds provide ambidextrous opening of the blade. A liner lock ensures that the blade remains open when needed. The SOG Fielder Mini FF-33 includes a pocket clip for convenient accessibility while being carried.
Blade Length: 2.75 inches
Overall Length: 6.5 inches
Weight: 3.36 oz
Blade Material: 7Cr13 Stainless steel
Handle Material: Wood overlays
In Stock: more than 10

retail $25.00
our price $11.41

---